Build Your New Home
Blueprints That Make Sense
Before purchasing new home blueprints, make sure they are a floor plan that makes sense for the way you live. A good house design takes time create.  It involves planning and revisions. Getting this part of the process complete is obviously a very high priority, and getting it right is even higher.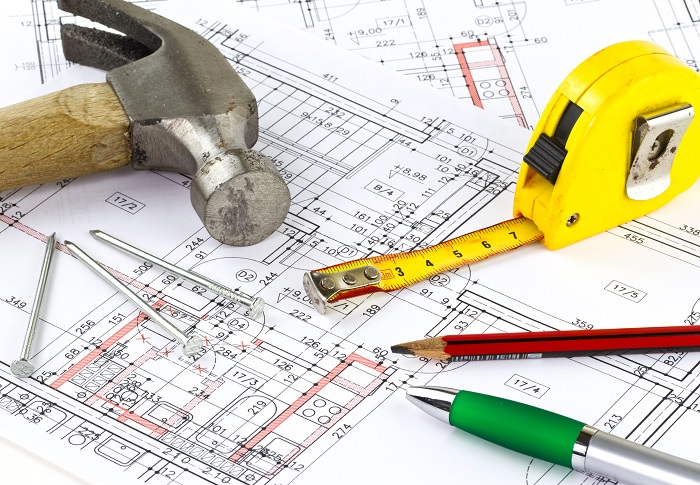 Before or After You Purchase Land
There are basically two common scenarios before finalizing your choice:
1) You have a dream home design in mind, but need to purchase the vacant lot to accommodate.
In my opinion, this scenario is the trickier of the two, unless you have a large land budget.  If you want to keep the land price down, and you need to accommodate plans you have already finalized, sometimes the way the footprint needs to sit on the land in order to meet the set-back requirements can give you an undesirable final product.
2) You already own the land and need a good plan that fits the topography. 
I prefer this option. The land may have a view and you want to design a home that captures the view to its fullest.  You also know the set-backs and can therefore make sure your footprint will fit inside nicely. Or, the land is long and skinny and you need to place it sideways.  Another factor could be the land has a steep drop off in the back, which would allow for a daylight basement. Fitting the plan to the land also helps make it more energy efficient in that you can determine which walls have smaller or now windows and where the roof overhang may need to be larger.
Pointing Out the Obvious
You need to have secured land and you need a set of home blueprints before the bank will finance the project. Beyond loving your combination of land and floor plan, there are a few more things you will need to know.
Your New Home Blueprints
You can start by designing your own home on graph paper, but eventually you will  have to convert them. A blueprint is an exact scale drawing of the house plan.  Combined with the specs (specifications regarding quality and materials needed), it has all the necessary details and instructions your tradesmen will need to bring the house to fruition.
The plans (blueprints) need to be a complete set, the type used by sub-contractors to give a precise estimate of cost. The set should have, at minimum, the following components:
Layout
Plot Plan
Elevations
Foundation Plan
Framing Drawing
Roof Plan
Plumbing and Mechanical Systems
Electrical Layout
Cross Sections and Construction Details
Kitchen Cabinet Layout
The most common size of blueprints are printed on 18" x 24" paper.  The next common is 24" x 36". Most office supply stores have the capability to print out your blueprints as easy as you can print documents at home.
Possible Requirements
Not every county in Texas requires the blueprints to have the seal of an architect or engineer, but it helps to know in advance if this is the case in your location. On the flip side, it is almost universally required that your foundation is engineered and has a stamp of approval.
For a quick lesson, head over to WikiHow to Learn to Read Blueprints