Purchasing a Vacant lot
Typically, the first step in building your dream home is finding the perfect property. Whether purchasing a vacant lot in an established community or somewhere out in the country, there are some very important questions you will want answered.  These are best obtained before the purchase to avoid your dream home from becoming a nightmare.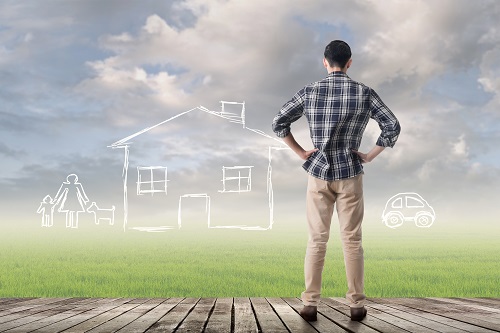 The goal is to eliminate as many surprises that could negatively affect your budget, building project or post construction experience. Not all surprises are avoidable, but this article should help you gather important information to minimize them in common areas.
We have provided a checklist for 7 major areas that should be considered prior to purchasing a vacant lot. Each item has pertinent questions to ask. Alongside the question column is an expense column. By estimating the extra costs needed to build on a given property, you will have an "apples to apples" comparison for each.
Purchasing a Vacant Lot Worksheet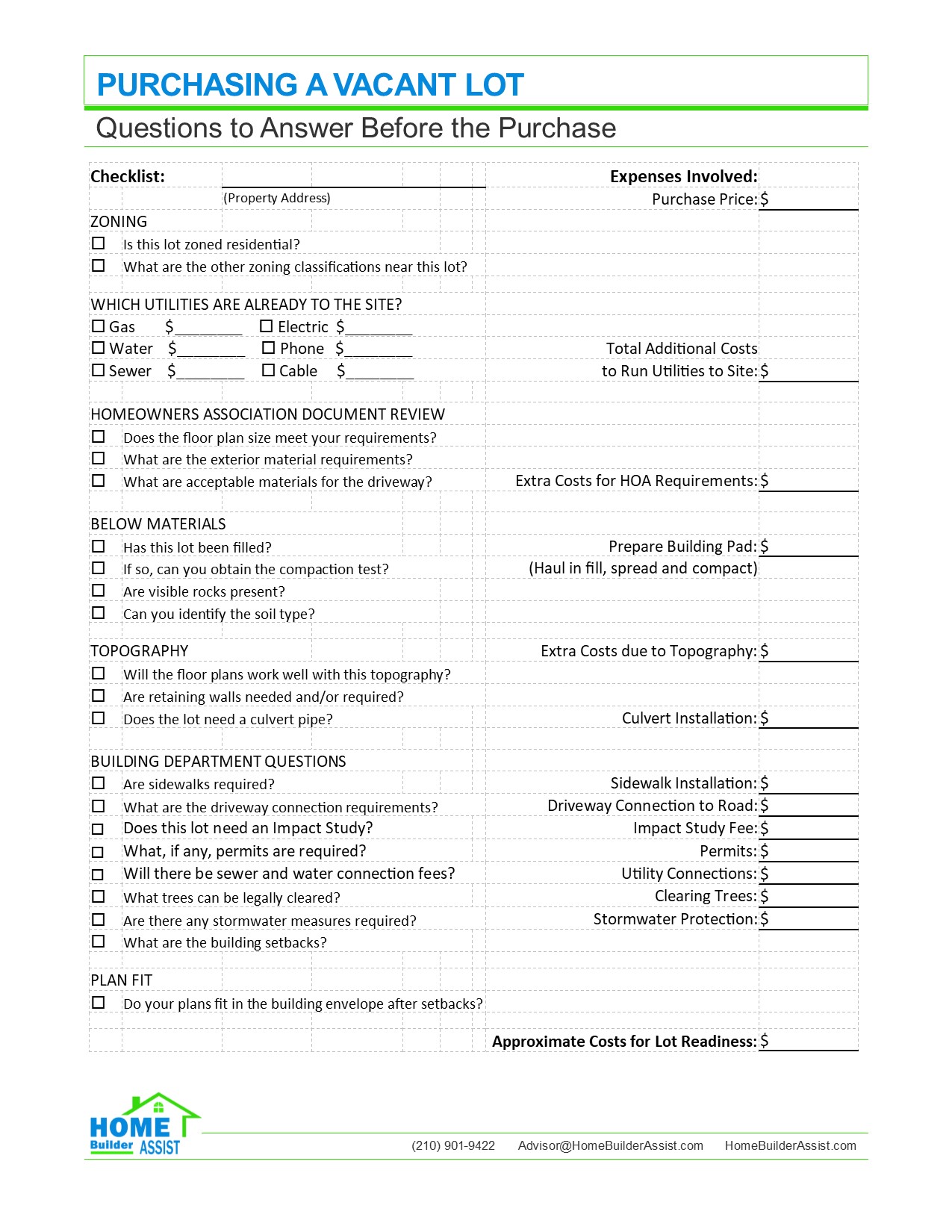 Click Here for printable copy of the Purchasing a Vacant Lot worksheet.
Pre-Purchase Summary
Zoning
Probably the most crucial item to ascertain before purchasing a vacant lot would be the zoning classification. Sub-division classifications are obvious. However, when looking outside an established community, you could encounter different classifications such as industrial, agriculture, or retail. For your new home build, you want a property zoned residential, possibly agricultural, depending on your needs.
| | | |
| --- | --- | --- |
| | | Also be sure to check the smallest amount of land needed to build a residence on the lot.  Don't get caught purchasing 9.8 acres in a residential area zoned for a minimum lot size of 10 acres. |
You will also want to know the classifications for undeveloped lots in close proximity to make sure a garbage dump couldn't possibly end up right behind you. Check your municipality for the established zoning map.
Utilities
Start by investigating which utilities have been run to the site.  Do not assume that just because a lot is in a sub-division that it has water, sewer, gas, electric or cable established. Most communities only have a few of these already in place. The best way to tell which utilities are present is to ask the listing broker.  Another clue is to look for utility poles, transformer boxes and manholes.
Once this is determined, you will need to find out the costs to install. Call the particular company that will provide the service, such as water or power, and ask for a quote to extend service to the property from the closest source. If sewer is available, find out how far from the house to run the lines.  Otherwise, get a quote for a septic system to be installed.
Homeowners Associations
Homeowners Associations, also know as H.O.A.'s, are almost certainly established in existing sub-divisions.  If you purchase the property, you will automatically become a member. By so doing, you will be committed to obeying the established CC&R's (Codes, Covenants and Restrictions). As the title suggests, this document lists what can and cannot be done within the neighborhood. They dictate the style and minimum size of the home. Also which building materials must be used and which are not allowed.
| | | |
| --- | --- | --- |
| Not only do the CC&R's discuss matters regarding your home, here are a few other items for which to be aware. Pools, are in-ground and above ground both permitted?  Shed height, must it stay below the height of your fence. Recreational vehicles, can they be parked in your driveway? Animals, are any disallowed? Length of time to begin building, how long do you have? | | |
Be sure to not only get a copy of the CC&R's, but to read them thoroughly.  Don't find out too late that you can't build your dream home on that property or there are other restrictions preventing you from living the lifestyle you imagined.
Below Ground Materials
Number one tip on this subject: If you are not familiar with ground materials and compaction, hire a soils engineer. It will save you thousands of dollars in the future.  This is an area you must get right.
If a property is low, it is sometimes necessary to bring in fill material to raise the grade. Any material that will compact can be used, such as dirt or stone. Occasionally the developer will have already done this before you purchase the lot. If so, here are some things you need to know.
If a given property was filled, it is important to find out whether proper compaction methods were used. Major structural problems can occur if not done correctly. Settling may occur over time, which would cause cracks in your foundation or walls. Check with the local building department to see if they have documents showing that proper compaction methods were used. If not, it may be possible to check with the landowner to see if they have engineering reports. Be particularly concerned with the area in and around the future footprint of the home.

You must also find out what materials lie below the surface. For instance, if rock exists, your excavation will be quite expensive. Imagine having to excavate rock from your footings, water and sewer connections, plus electrical and gas lines. On the upside, rock will support a large structure.

If you encounter a soil type (such as expansive soil) that will not support a structure, then pilings or caissons will need to be installed down to solid material. Another spendy venture.
A soils engineer will have maps of the general soil types for your area. Engineers also know how to review boring reports that indicate what lies below. If you need to order a boring report, expect to spend a small fortune. But it will tell you whether rock is present and if the soil could support a home. This is usually not necessary unless you suspect a problem. You may be able to get the land owner to pay for some or all of the test.
One more item to consider when purchasing a vacant lot outside a sub-division. Does the property have any hazardous material onsite? You may want to have your attorney or realtor insert a clause in the purchase contract that stipulates no such hazardous materials are present and have the seller sign. Something as simple as a buried diesel tank can require major cleanup costs.
Topography
If the lot you have chosen is not relatively flat, then design your floor plan using the slope to your advantage. A gentle slope of 10% (one foot of rise for every ten feet across) or less is ideal. It simplifies site drainage and is easy to regrade (make level) if a yard is desired.
| | | |
| --- | --- | --- |
| | | A moderately steep slope, 15% to 20%, is ideal for a  walk-out basement, sometimes known as a daylight basement. The footing is stepped down to remain below the frost line on all sides. These can be finished for relatively inexpensive living space.   |
Beyond 20%, the slope may start to impact construction costs and may leave you with little level land for lawns and gardens.
Also, pay attention to whether the land is up-slope or down-slope from the road. On an up-slope lot, you may be looking over the road at views. A down-slope lot may have more privacy, but may feel like it is in a pit.  Also, runoff from the road may end up in your yard.
Another item affected by topography is the driveway. A steep driveway in a climate that freezes will create problems for both people and vehicles. Try to keep your driveway less than or equal to a 10% slope for better safety.
Flat lots also have their challenges. The biggest being proper drainage. It is important to grade the lot in such a way that all rainwater is managed properly and you won't have any standing water issues or water running back toward your home. You may need to include extra money in your budget for filling a flat lot at the building location to raise up the floor.
If the building lot you are considering has open storm water collection ditches adjacent to the road, you will need to include a culvert pipe. Driveway culvert pipes are an ideal solution to manage excess flow and prevent downstream flooding and erosion along a roadway. They allow water to flow under a driveway or a roadway with minimum obstruction while still providing access to your home. Be sure to provide enough cover over the pipe to help distribute the weight of delivery trucks as well as your own vehicles. Concrete and drywall trucks are extremely heavy and have the potential to crush a pipe if not installed properly.

Building Department
Public Sidewalks

Look for sidewalks while driving through a community. If sidewalks are not present at the lot you are considering, but along other properties, include this cost into your budget. Remember that a corner lot will cost more for this line item.
Driveway Connection to the Road
Prior to purchasing a vacant lot in a sub-division, if a curb exists in front of the property, remember that you may need to cut the curb in the position you have planned for the garage entrance. This is another budget item to consider. Rural lots may need special permission to connect to the public road. Check with the governing body for either situation to see what requirements may exist.
Impact Study
Impact fees are occasionally charged by municipalities to help cover costs of more people living in the community. This is also due to the increased amount of trash removal, fire and rescue, roads and schools that affect the area. You may need to contract for the study yourself, or the municipality may simply charge you a fee for the study they already conducted.
Permits
Check with your city and county to ascertain which, if any, permits are needed to build.
Utility Connections
Other fees that may be charged by a building department include utility hook-ups for water and sewer. When you tie your new home into the public water and sewer system, there are typically inspection fees, maintenance fees and additional fees for the new demand on the system. Depending on your location, these fees may be called water meter fees or tap fees.
Tree Clearing
Before  purchasing a vacant lot, be sure and ask about specific rules before you clear any trees from the property. Though  rare, some cities make you pay a fee for each tree you cut down and some even require you to plant replacement trees.  Clearly, this affects your overall cost.
Storm Water Protection
Measures need to be in place that keep large quantities of dirt of silt from running off construction sites into the sewers when it rains. It is believed that dirt and silt may negatively affect rivers and wildlife. The most basic  protection is with a silt fence. Silt fences are the two foot tall black fabric fences one may see around the perimeter of the building site. If you are close to a protected wildlife area or body of water, the requirements in this area may be extreme.  Be sure and get as many details about your responsibilities for this item as it can significantly add to your cost.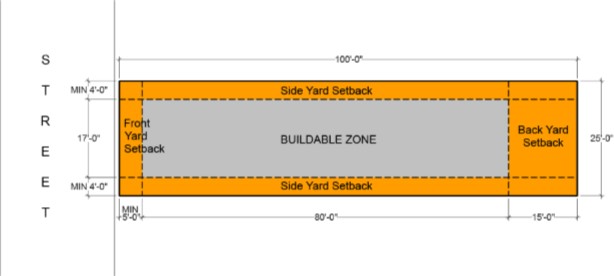 Restrictions such as side, rear and front yard setbacks keep you from building too close to the property line. Also, be aware of any easements and setbacks from wetlands.  When you measure out these setbacks on your plat map, that will give you what is called your building envelope. This measurement goes to the size of your footprint, not how many square feet you can build. Be sure and check the code for decks in your neighborhood as some municipalities say decks can not be built outside the envelope either.
If you have large tracts of land in the neighborhood, you may encounter front yard setbacks as big as 50 feet from the road. Although this allows for greater privacy, it also means you will need additional feet of water, sewer, gas and electric lines, plus a longer driveway, to reach the road.  This cost can add up quickly so be aware of large setbacks.
Plan Fit
If you have a particular floor plan in mind, this is an item you will defiantly need to carefully check because your lot and floor plan affect each other. One reason is building lots located in sub-divisions typically have restrictions. Does your floor plan meet the requirements? Also consider shape of the home as well as the size (footprint). If the lot isn't wide enough, you may need to turn your garage at an angle.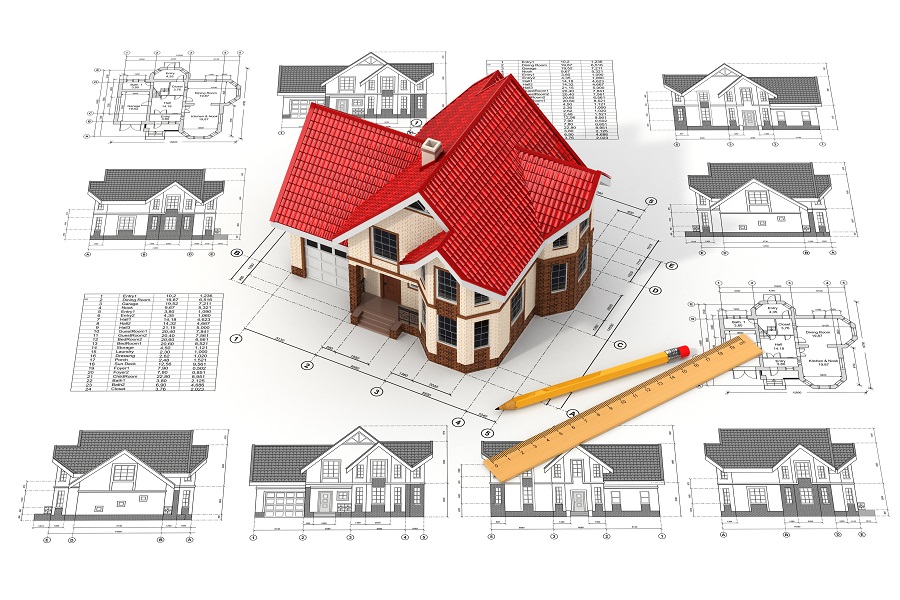 If your floor plans are set in stone, you will need to make this item your top priority when purchasing a vacant lot. No sense wasting time and energy on the other line items if the floor plan will not fit.
Once you have purchased your vacant lot, read this article to see if you need to insure the land.