Painting Tips for the Owner-Builder
Best tip ever: always prep the area when painting. You will save the most amount of money and time if you lay down protective coverings. "But I have concrete floors," you say. Trust us, if you don't develop this habit now you are setting yourself up for costly, time consuming repairs of your permanent flooring down the line. Another tip: use cardboard instead of plastic. As you can imagine, plastic on the floor is slippery; avoid it.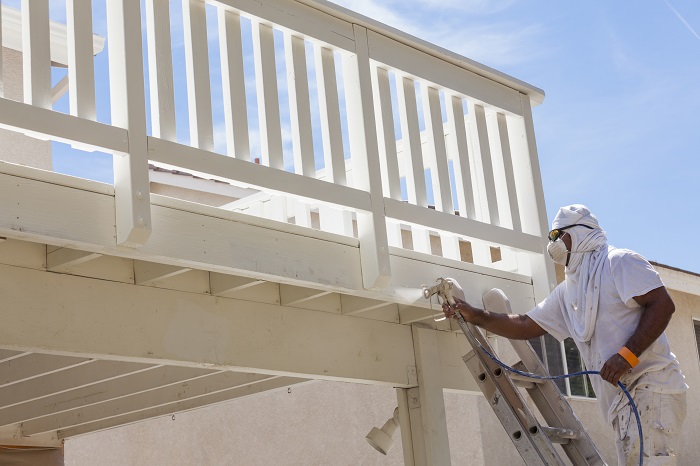 Discount Paint
Second money saving tip: don't be so afraid of "oops" paint. Holy Cow, can you save a ton of money if you buy someone else's costly mistake. Every store that sells paint, sell "oops" paints. You would be surprised at how many beautiful, neutral shades are sold in five-gallon buckets and can be purchased for well over 50% of retail.
What about the sheen? I wanted something more durable than a matte finish. Okay, what we suggest is buying a gallon of a similar colored "oops" paint in a higher sheen – like semi-gloss or gloss - and mixing it in.
Tools
Let's talk tools. To save money, don't skimp on the quality of tools you buy. Do; however, buy your tools used from either garages sales or thrift-stores. Must haves are: good rollers (and I am going to assume you will be able to tell the difference between dollar outlet store finds and quality items from places like Kelly-Moore or Sherwin-Williams), thick roller pads, great hand brushes (this might be the one thing you'll end up having to buy retail – if you can't find new, unused brushes when thrift shopping), clean five-gallon buckets with lids for mixing your "oops" paints, a paint paddle (attaches to your drill and is imperative when mixing paints) and a lot of smallish plastic containers with tight lids.
Consider a Paint Sprayer
For large areas you might want to use a paint sprayer; however, be forewarned: unless you invest in a professional sprayer (entry-level around $400) you will most like be fighting with your machine. If you do go the professional machine route, you can always sell it used. There is also the option of renting.  It is easier to hand-paint than to use a poor-quality sprayer. Another thing about spray-painting is that they use a lot more paint – and that paint tends to float in the air and lightly cover areas in your house you had not intended on painting.
All these hints and tips are born from real-life experience. We're sharing them with you to save you both time and money (and in the end, your time is money).
Here is another page you may enjoy on the subject.