Millwork & Moulding
Spend Now to Save on Repairs Later
Whether you want your interior millwork and moulding to be a subtle accent or a bold statement on its own, there are a variety of materials to suit any style ranging from classically understated to fashion-forward. And knowing where to spend now will save in headache and repairs down the road.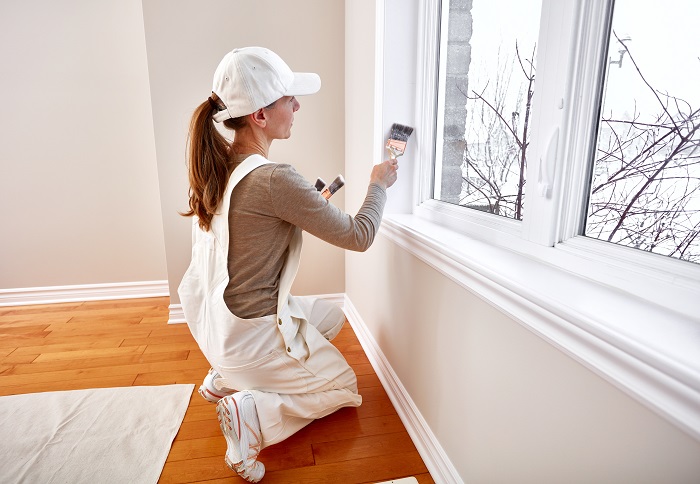 Historically, the term millwork applied to building elements made specifically from wood. During the "Golden Age" of millworking (1880–1910), virtually everything in the house was made from wood. Different types of millwork: doors, windows, transoms, sidelights, moulding, trim, and stair parts to name a few. Today, the increase in the use of synthetic materials has led many professionals to consider any item that is composed of a combination of wood and synthetic elements to also be properly defined as millwork.
Don't Cut Corners in These Areas!
When it comes to saving money on your new home, owner-builders are often inclined to do so at the expense of the finish carpentry. There are opportunities that make sense, for example, there is a sizable difference between using clear cherry millwork vs. MDF (medium density fiberboard).  There are however a few areas where little upgrades can impact how your new home will stand up to the test of time.   Here is a list of places you should use premium materials:
Pocket Door
A pocket door can be the perfect solution in a tight space. Make sure the door slab being installed has a molded solid core rather than a hollow core door, even if hollow core doors are being used throughout the rest of the home. The weight of the solid core door will actually help it run smoother on the track. They also tend to be more stable which means they will resist warping over time. Even the slightest inconsistency in the slab will prohibit the door from functioning properly.
Soft Close Cabinet Hardware
Cabinets are one of the bigger ticket items in any kitchen or bath. There are however ways to save money here and there to stay within budget. Door styles, materials and specie of wood are areas where costs can be contrilled with various options.
One upgrade that owner-builders always seen to be glad they went with is soft close hardware for doors and drawers. The added touch of luxury these little gems bring to the finished room is always one of the first things that is shown to impress guest. The hardware helps to keep the contents of your drawer from flying all over the place when it is slid shut with ease. The smooth closing action also helps to insure longevity of the drawers, doors and cabinet frames because they won't be jarred out of alignment from hurling shut. If you have kids, you will certainly appreciate the noise reduction and the fact that little fingers will be less likely pinched from a slammed door or drawer.
High Quality Caulking on Millwork
Nothing makes your millwork pop more than a finished coat of paint. On the other hand, nothing is worse than when the caulking starts to crack on millwork 6 months after the home is complete. Insist that your painters, or you, use top quality paint-able caulk with high flexibility and capability with various materials. Also, for joints larger than 1/2", it is critical that backer rod is installed before caulk is squeezed into the void. This also helps to keep the caulk flexible.
The few extra dollars spent on the paint prep goes a long way to ensure your painted millwork joints stay smooth and crack free. Do not assume the painters will use the high quality caulk.  They often want to save a few bucks in this area.  Specify in advance what caulk is acceptable for your project and have them include this in the estimate.
Base Shoe
First, some may ask what the heck is a base shoe? If your baseboard is taller than 3 1/4" and you have wood or tile floors, the base shoe is a 3/4" to 1/2" thick rounded stick that adds a finishing touch to the millwork baseboard.
The base shoe helps keep dust out of the crack between the floor and baseboard which makes cleaning the floors easier.  Down the road, if the floors need to be re-finished or changed out, the new installation doesn't require removing and re-distilling all of the baseboards.  The base shoe can be easily popped off and then tacked back on after the new flooring is put into place.
MDF and Water Don't Mix
MDF ( medium density fiberboard) is a fantastic product which has many use in construction. In millwork, it is more cost effective than real wood and it paints very nice and smooth. Basically, it is fine sawdust that is pressed and bonded together with resin glue. It has many advantages but its arch-enemy is water. Even a tiny bit of moisture (even water vapor) can cause MDF to balloon up and sprint off the wall. It also becomes a source for mold as it acts like a sponge to water.
This may seem like an obvious product to avoid using in bathrooms (or anywhere water is expected) but I see builders install MDF anyway as a cost cutting measure where they know very well this product will not last the test of time. Be sure that MDF isn't installed where it shouldn't in your home. A couple of alternatives to MDF are either PFJ (Primed Finger Joint) real wood or PVC (Poly Vinyl Chloride or commonly known as Plastic). These products cost a little more that MDF but they are far more stable in wet environments. Typically you will only need these upgrades in 1-2 rooms which helps to keep the cost low. They paint up just as well as MDF to match the rest of your house and will continue to look just as good as the day your home was completed.

Closet Casing
When closet doors are being installed, either bi-fold or by-pass style, choose to have them cased out in the same manner as the rest of your hinged doors. In spec homes, closet doors are usually not cased out and doors are left butting into drywall to save money. This small attention to detail will keep every room looking sharp and consistent with the rest of the millwork in the house. The last thing you want at the end of your project is for any room to appear ordinary.

Conclusion
Millwork, especially mouldings, make a huge difference in how finished your space looks and how all your decor choices suddenly come together to make a final impression.
One more thought... Wood Shutters. Click here to read about the energy saving advantages.