What to Know About
Door Hardware
There a few decisions to make before buying and installing the door hardware in your home.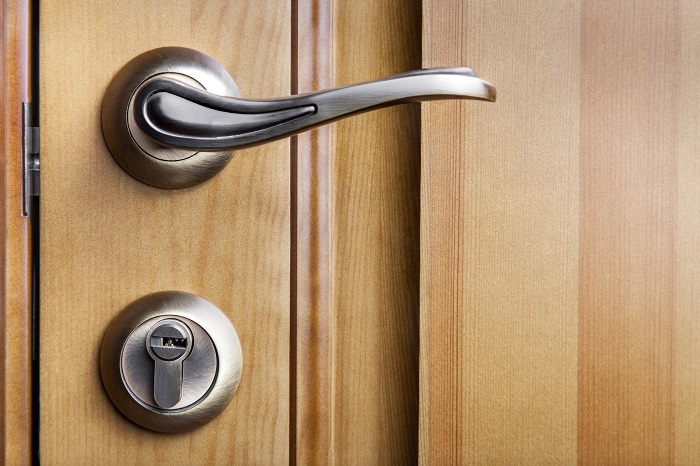 3 Questions to Ask Yourself
Do I want mechanical, electronic or smart lock door hardware? Maybe focus your decision on how important key-less convenience and remote access are to you as the deciding factor.
Would I prefer a door knob or lever?  First, this is a matter of aesthetic preference. But also consider ease of use, too. Knobs can be difficult for children and pets to operate – sometimes a good thing if you have an escape artist – while levers can be easier for those with arthritis or when your hands are full, such as when you are carrying groceries from the garage into your pantry.
What functionality should my mechanical lock have - 1. Keyed entry 2. Hall & Closet or 3. Bed and Bath? Is it an exterior door where you want extra security? If so, choose a keyed lock or deadbolt. Otherwise you'll need either a Bed & bath lock with push-button locking or a Hall & closet knob or lever that simply turns to let you in and out. 
Door Hardware - Typical Parts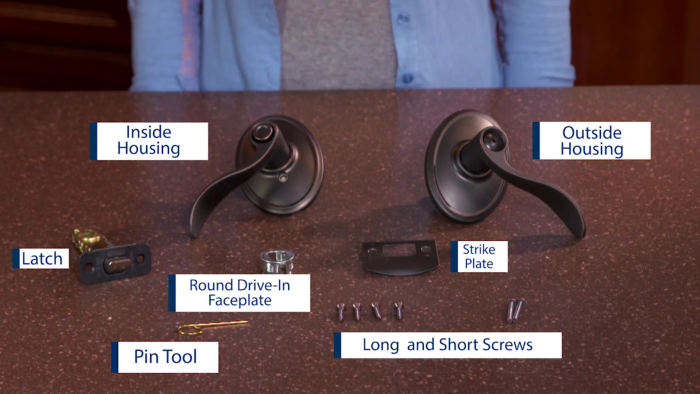 You can complete your knob and lever installation in just a few minutes with minimal tools - tape measure and a #2 Phillips Head screwdriver. Keep in mind that an electric drill is not recommended for installation as it can easily strip the screws and damage your hardware. Once you've gathered your tools, you're ready to get started installing your door knobs or levers. The first step you want to take is to ensure you have all parts and pieces. Here's a checklist to help you be sure: 
Outside housing: This is the "exterior" portion of your hardware with the spindle extending from the back.

Inside housing: This is the "interior" portion of your knob or lever. For privacy knobs and levers, you'll want to be sure the push-button lock is on the inside.
Latch: The spring operated bolt with a beveled face to permit a latching action when the door closes.
Round drive-in faceplate: This is an optional faceplate that may replace the rectangular faceplate already attached to the latch if your door calls for it.
Strike plate: The strike plate is the metal plate that will be affixed to the door frame.
Short screws: These will be used to secure the bolt and faceplate with the door.
Tapered long screws: These will be used to secure the inside housing to the outside housing.
Pin tool: This will only be used for curved levers that may need to change handing.
Bore Holes
SINGLE BORE HOLE: A door with a single bore door is typically an interior door, although not always. Either way, you'll need to decide whether you want a mechanical or electronic lock.
For interior doors, a mechanical lock is usually sufficient. Most people who want a locking interior door are looking for privacy more than security. When this is the case, choose a Bed & bath knob or lever. If locking is not a concern, like with kitchen pantries or laundry rooms, choose a Hall & closet knob or lever.
For a door – interior or exterior – where you want greater control over access, choose a mechanical keyed entry lock or an electronic lock. These are perfect for wine cellars, home offices and the door leading in from your garage. If you don't want to carry a physical key to get to your Chardonnay, go with the electronic option. In addition to security, they provide key-less convenience. Just set an access code that you can easily change or delete if needed.
If you choose electronic door hardware, you'll have to decide whether you want a backup key. 
DOUBLE BORE HOLE: Simply put, the top hole in a double bore hole door is for your deadbolt and the bottom is for your knob or lever. This is where smart locks come into play. When it comes to choosing your deadbolt, you'll need to decide between mechanical, electronic or smart. Our recommendation is a smart or electronic deadbolt with a non-locking knob or lever beneath.
If you choose a smart lock, you'll be able to control your lock remotely from anywhere using compatible smartphone apps, find peace of mind when you can monitor the status of your lock from your phone and enjoy additional everyday convenience by pairing your lock with other smart home technology.  
Should you choose to go entirely mechanical on your exterior door hardware, look for a lock with the deadbolt function. Your knob or lever can then be either locking or non-locking. Look to buy these as a set so that they are keyed the same.
Great How-To Video 
SFGATE has a great video on how to install the door hardware yourself.